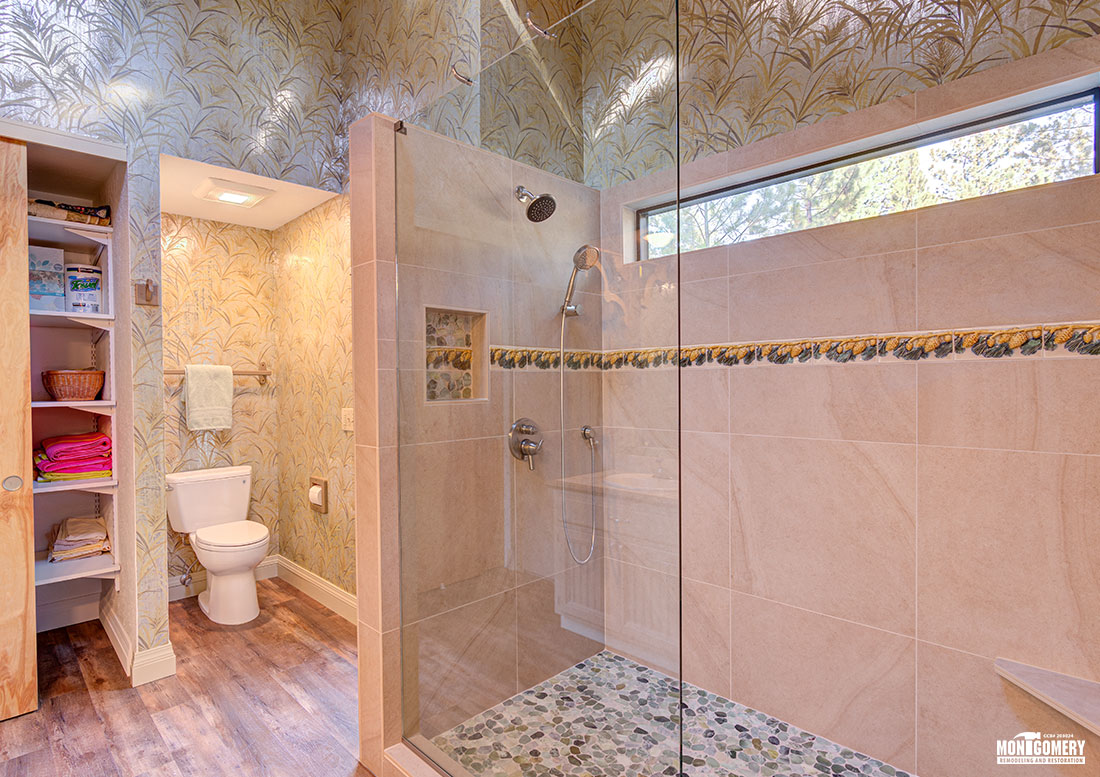 8 Essential Upgrades to Create Your Dream Bathroom
Your bathroom is the space where you get ready for your day, relax in the tub or shower, and have some of your most personal moments. A room this important should reflect your unique personality and lift your spirits. Complete these eight listed bathroom upgrades, and turn your bathroom into an amazing private haven where you feel both motivated and pampered for years to come.
1. Refresh the Walls
Change the bathroom walls to create a space that soothes you and gives you confidence. There are several ways to improve the aesthetic of your bathroom walls.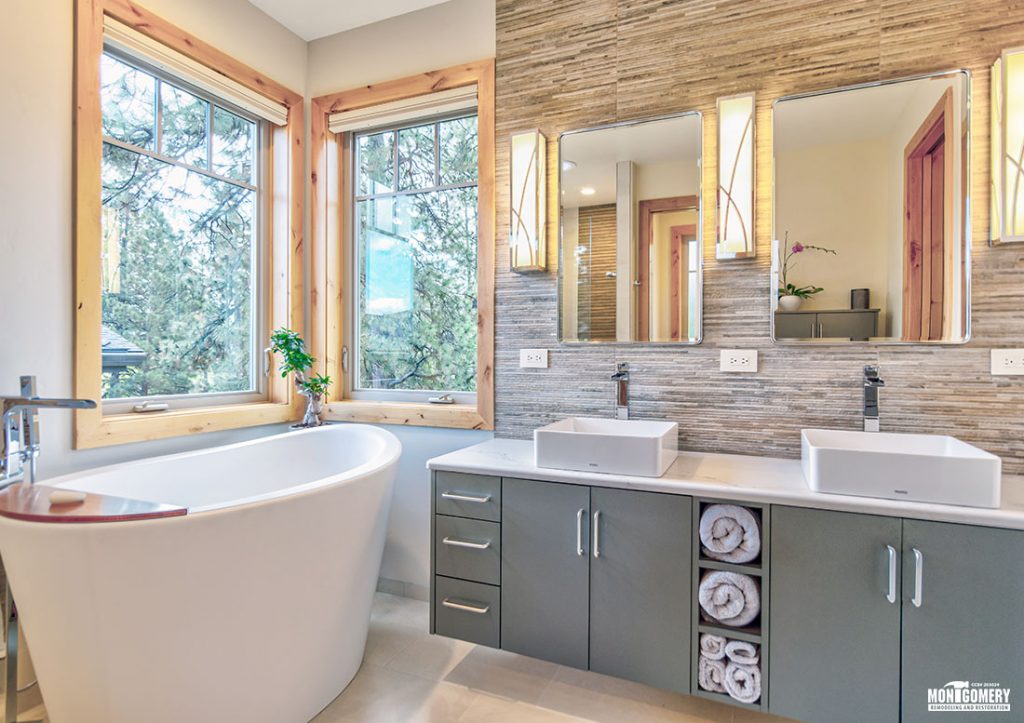 One of the quickest, most budget-friendly ways to transform your bathroom is to give the space a fresh paint job. If you want your bathroom to look cleaner and brighter, choose white or pastel paint that reflects the light. If you're going for a spa-like atmosphere in the bathroom, select paint colors in earthy and neutral tones.
It's not necessary to use wall paint specifically designed for bathrooms, but you do need to use paint that can stand up to the increased humidity and traffic in your bathroom. For the best results, choose paint for your bathroom with the following qualities:
-Anti-microbial agents to resist mold and mildew
-Semi-gloss or high-gloss finish to repel water
-Washable finish
You can use paints with flat or eggshell finishes in the bathroom, but these paints tend to be porous and less easy to clean. Flat and eggshell-finish paints work best in low-moisture bathrooms. Add trim paint in a higher gloss finish than the wall paint to make your baseboards, window frames, and door frames easy to clean.
It's okay to use several paint colors in the same bathroom. Coordinating or contrasting colors on alternating bathroom walls can make a cold, large space seem more cozy or make a too-small bathroom seem larger. Another tip to jazz up your bathroom is to add one wall of tile or wallpaper that coordinates with your new paint color.
2. Throw Some New Light on the Subject
Outdated light fixtures bring down the overall decor in a bathroom. Light levels in the bathroom can also affect the bathroom mood. Too-bright lighting can make the bathroom seem like a harsh space, while too-dim lighting doesn't give you the illumination you need to perform your everyday bathroom tasks.
Consider installing bathroom light fixtures with a layered effect. Replace a glaring overhead light with a contemporary light fixture you can dim for more intimacy. Get rid of dust-catching, frilly wall sconces and install modern, low-profile sconces that offer a clean, uncluttered look. Make sure the centers of the sconces are mounted around 60 inches high for the best light distribution.
Experts recommend that light levels in the bathroom be rated with a color rendering index (CRI) of 90 or more if you want a realistic reflection of the actual hues in the room. Choose warmer light temperatures for installation in the bathroom for a more flattering appearance. Achieve warmer color temperatures with light fixtures in the 2,700K to 3,000K temperature range.
Add an illuminating vanity bar over the bathroom mirror that turns on independently for tasks like makeup application and shaving. Vanity lights or bars should be mounted around 78 inches above the bathroom mirror.
Recessed, dimmable lights in the shower/tub area increase your safety getting in and out of your bathing space. Shower and tub lights also help you see what you're doing, whether you shave in the shower or read in the tub. Be sure to order waterproof lights intended for use in wet areas.
3. Renew Your Bathing Accommodations
Whether you prefer baths, showers, or the option for both, revitalize your bathing accommodations to make your bathroom feel more like a spa than a run-down hotel room. There are several ways to transform your bath and/or shower areas.
Consider one or more of the following shower and tub updates to create a new bathroom experience:
-Buy a curved shower curtain rod for more space.
-Replace the outdated tub with a free-standing version.
-Find a new tub/shower surround in a fresh color.
-Add new frameless glass doors to your shower area.
-Install a modern showerhead with more features.
-Refinish the old tub or install a new tub liner.
If you never use the bathtub, pull it out and create a tiled, walk-in shower area. Add a mirror, seat, and waterproof, built-in speakers to enjoy music and podcasts while you shave and scrub.
When you need an age-in-place bathroom for future you, or people with mobility issues often bathe in your bathroom, a walk-in shower with mobility bars makes life easier and safer. A step-in tub with a seat, low-placed handheld showerhead, and pull-up bars is another great option for people with mobility issues.
4. Install a Quality Toilet With Bidet
For a better toilet experience, it's out with the old and in with the new. Replace a leaky, ugly, inefficient toilet with a brand new model that's comfy and water-wise.
There are two basic types of toilets on the market. One-piece toilets are sophisticated and take up less space in the bathroom. Two-piece toilets have separate tanks and bowls. While one-piece toilets are sleeker than two-piece toilets, they're also more costly.
Hidden-cistern toilets are uncommon, but they're a third option in bathrooms with limited space. The water tank is tucked behind the wall out of sight, which gives the bathroom a modern, minimalist appearance. Or, you can opt for a tankless toilet with a pressure valve that works like a public toilet. However, pressure-valve toilets tend to be noisy, just like the ones you find in public spaces.
The following features are extra toilet upgrades that make your bathroom seem like an oasis:
-Heated seats with adjustable temperatures
-Elongated seats for taller people
-Touch-free or remote-control flushing
-Dual-flush options for liquid or solid waste
-Built-in bidet for refreshing self-cleaning
Install a free-standing bidet if your bathroom is large enough. Bidets have been around since the French invented them in the 1600s. People in Europe, South America, and Asia swear by them. Today, Americans have hopped on the bidet trend for health and hygiene reasons as well as to feel a sense of luxury in the bathroom.
Bidets feature a spray nozzle that cleans your private parts, then flushes the dirty water down the fixture. They help cut down on the amount of toilet paper you use and make you feel fresh and clean. Choose a free-standing bidet (or a bidet attachment for your toilet) that offers a warm-water option and adjustable spray output for the most bidet comfort.
5. Replace the Outdated Sink and Vanity
A new sink and/or vanity transform your bathroom and can add extra floor space in mini bathrooms. Today's bathroom sinks and vanities are available in a myriad of styles and colors to suit any bathroom decor.
Bathroom sinks are manufactured with the following materials:
-Marble
-Vitrious china
-Porcelain
-Concrete
-Glass and titanium glass
-Gold- or copper-covered glass
Porcelain, concrete, and stone sinks are more durable for families with children, while glass sinks are more decorative but fragile. Some sinks can be attached to the wall with no cabinet at all, while bowl-type sinks can be placed on top of the vanity counter. Drop-in sinks have edges that are flush with the vanity top. Be aware that some bowl-type and waterfall-style sinks give a lot of splash-back when the faucet runs at full force.
To add floor space, choose a pedestal or wall-mounted sink. Or, choose a floating vanity without legs that has clear space below the cabinet.
Today's traditional-style bathroom vanities don't have a lot of trim or molding, but tend to be more clean-lined. Look for vanities in unique colors including navy blue, subdued grey, and forest green. Shelf-style vanities in white or wood-grain offer more storage space and can accommodate single or double sinks.
If you don't have the budget for a new vanity-and-sink combo, renew your old vanity with a fresh coat of paint and hardware. Install a new vanity top and/or a new sink faucet to update the vanity without going overboard on renovation costs.
6. Add Soft-Close Bathroom Features
Soft close features are available for most furnishings in your bathroom. Soft-close features may be special cabinet or door hinges that slowly shut a door, shower stall, or cabinet. Budget-friendly soft-close features include felt or other fabric pads that help cabinets close without harsh closing noises.
Soft-close slides attach inside cabinet drawers. Like soft-close hinges, the soft-close slide activates at the last part of a drawer closure, so the drawer shuts silently and slowly. Soft-close hinges and slides on glass shower doors help protect the glass from slamming while they also reduce bathroom clatter.
Modern bathroom vanities are often made with soft-close hinges and slides even at a budget level. Shop around to find vanities that include soft-close features.
Soft-close hinges and slides are a true blessing in the bathroom. Their silent operation keeps the bathroom peaceful and keeps kids and rugged adults from noisily slamming cabinet doors and drawers when you need quiet time. Soft-close hinges and slides also protect small children and pets from getting their fingers or paws slammed in doors and drawers.
Order soft-close toilet seats to help cut down on bathroom noise and protect the toilet seat (and little fingers) from too-rough closure. Lightweight, padded toilet seats are another option for quiet toilet closure, and you can install them on any toilet. Be sure to measure your toilet seat before ordering a soft-close or padded toilet seat, so your new seat doesn't have any gap or overhang on the toilet bowl.
7. Modernize Outlets for Efficiency and Security
If your bathroom was built ages ago, it may not have modern electrical outlets that are up to code. Most building codes today require all bathroom outlets to be outfitted with ground-fault circuit interrupters (GFCIs) to reduce the risk of electrocution or electrical shock when water and electricity mix.
GFCIs cut electrical power when the devices sense imbalances in electrical flow in the bathroom power circuit. Since water creates an imbalance in an electrical current, GFCIs protect people when their fingers accidentally contact the current with wet hands, or, if a person accidentally drops an electrical device in a sink or tub full of water.
For safety reasons, bathroom GFCI outlets should have the following specifications to meet most codes:
-No closer than 36 inches from bathtub side
-Never located above bathtub
-Located within 36 inches of sink
-Never installed face-up on countertop
-On a dedicated circuit separate from lighting circuit
While you're having GFCIs replaced by a licensed electrician, consider upgrading your outlets at the same time for more efficient use of the bathroom. Have electrical outlets installed in bathroom cabinets or drawers, so you can always have your hair appliances, electric toothbrushes, and shavers ready to go yet organized.
Another great efficiency tip when installing outlets is to have an outlet that includes USB chargers alongside the electrical plugs. You can conveniently charge your phone while you get ready in the morning, but still keep your phone or other devices close at hand. USB chargers can also be used to charge and power waterproof Bluetooth devices.
Choose electrical outlets with surge suppression to protect sensitive devices. Electrical outlets with built-in nightlights are another safety feature that keeps the bathroom lit at night without having to turn on glaring lights when you're half asleep.
8. Deal With the Clutter
Does your bathroom routinely look like a nightmare with clothes covering the floor, toys clogging the tub, and a vanity overloaded with beauty supplies and other hygiene products? A cluttered bathroom can be depressing and make your bathroom seem more like a place of soul-crushing bedlam than a space for sweet escape.
Invest in de-cluttering tools to make your bathroom tidy and pleasant. Install one or more of the following furnishings to help keep the bathroom a sane space of order:
-Over-the-toilet shelving
-Hamper for dirty clothes
-Multi-level towel racks
-Row of towel hooks
-Magazine rack next to toilet
-Net with suction cups for bath toy storage
-Drawer organizers
-Multi-tiered vertical basket for vanity-top storage
-Hanging hair-appliance organizer
-Back-of-door robe and towel hooks.
Organizing tools are some of the most cost-effective products to return your bathroom to a sense of cleanliness and organization. Shop around at home goods stores and research online to find unique storage possibilities for your bathroom. Other people have faced the struggle, too, and they post an array of clever bathroom organization tips and tricks online.
The above eight bathroom upgrades turn your personal space into a room where you can truly relax and rejuvenate your body and spirit. Bathroom upgrades also turn the room into a serene space you're proud to show to guests and potential buyers.
The best part about bathroom remodeling is that you can gradually update your bathroom in stages yourself, or you can hire contractors to renovate the space all at once. Either way, you and the bathroom come out looking and feeling like winners.