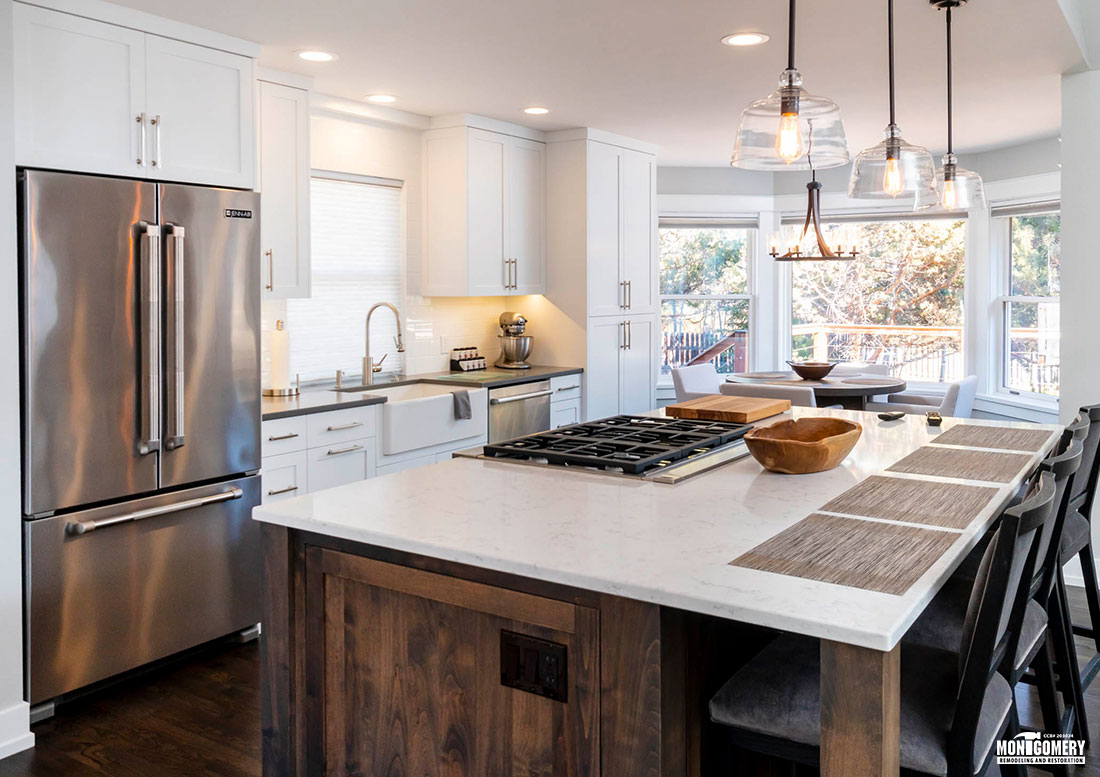 The Value of Kitchen Remodels
How Kitchen Remodels Can Affect the Value of Your Home
Are you looking to increase your home's value? There are many investments out there. It can be hard to pick the right one for your property. Kitchen remodeling may be a great idea. In many situations, revamping your kitchen can improve your property's resale value, as C21 Doug Anderson points out. In this article, we'll cover the frequent questions related to kitchen remodeling projects. You'll learn about their effect on your home's value.
Are kitchen remodels worth it?
Kitchen remodels can be expensive. There can be many costs associated with giving your kitchen a new look.
Many homeowners have to decide between kitchen and bathroom remodeling projects. Which one is more important? Consumer Reports states that real estate professionals consider the kitchen as the most important room to influence a house sale.
In many households, the kitchen acts as the focal point of the living space. All the cooking and socializing results in people spending more time in their kitchen than they would imagine.
For some couples, kitchens are the place to have the most important conversations, such as future plans, finances, and kids. That's why keeping this space looking clean, updated, and fresh is essential.
What kind of return can I expect?
The return on your investment is challenging to predict. The final result depends on your housing market.
When the housing market is weak, you'll see its depreciative effects on your home's resale value. A strong housing market definitely helps to gain a higher return on any kitchen remodeling.
Another type of benefit you can expect is speeding up the selling process. Successful home improvement projects can help you sell the property quicker.
How much does a kitchen remodel cost?
There are no universal criteria for what a kitchen remodel project includes. Therefore, the estimates vary a lot depending on the project's details and ambition behind the plans.
Still, minor remodels may run about $15,000-$20,000. When you opt for a major remodel, the prices may easily reach $50,000 for a mid-range solution. Going for a high-end look and feel costs significantly more.
What are the tips for a successful kitchen remodel?
Any successful remodel needs solid ground. This means making plans and setting goals that your project needs to achieve. Here are some useful tips for your kitchen remodel:
Improve kitchen storage by finding creative ways to open up extra storage space.
Pick neutral colors so as not to discourage potential buyers.
Replace any worn-out or broken appliances. Add new appliances that make life easier and more comfortable.
Add a new tile backsplash to provide an extra fresh look for your remodeled kitchen.
Assess different flooring options. Vinyl is always cheaper compared to slate or genuine hardwood.
Choose stainless steel for your kitchen appliances because they last longer and are easier to maintain.
Provide quick access between the stove, fridge, and sink. This model is called the kitchen work triangle.
Replace, paint, or refinish your cabinets. Pick a suitable option based on your budget.
What are the options for small-scale remodels?
There are always ways to conduct minor remodeling. Take a look at some of the options you have for this:
Install new countertops
Change the light fixtures
Repaint the cabinets and walls
Clean the floor
Get a new backsplash
Does remodeling disrupt your daily life?
This is a major concern for many homeowners. There are ready alternatives for the duration of your kitchen remodel. You can order food delivery, cook outside, microwave food, or use a hot plate.
Minor kitchen remodeling projects may cause only a slight nuisance. And it's always possible to finalize the project in smaller steps. You can finish the most disruptive part of the project in the beginning. Then you can start enjoying the benefits of a kitchen with a fresh look as the finishing touches and minor steps are underway.
The bottom line: how kitchen remodels affect the your home's value
Kitchen remodeling may increase your home's resale value. And you may find it easier to sell your home after finalizing a successful kitchen remodeling project.
The expenses depend on whether you do minor or major remodeling. Deciding between a mid-range or upscale approach plays an important role as well. The same variables account for how long times the project takes altogether.
Going for major improvement and remodeling projects doesn't come cheap. You have to weigh the pros and cons together with the potential return on investment.