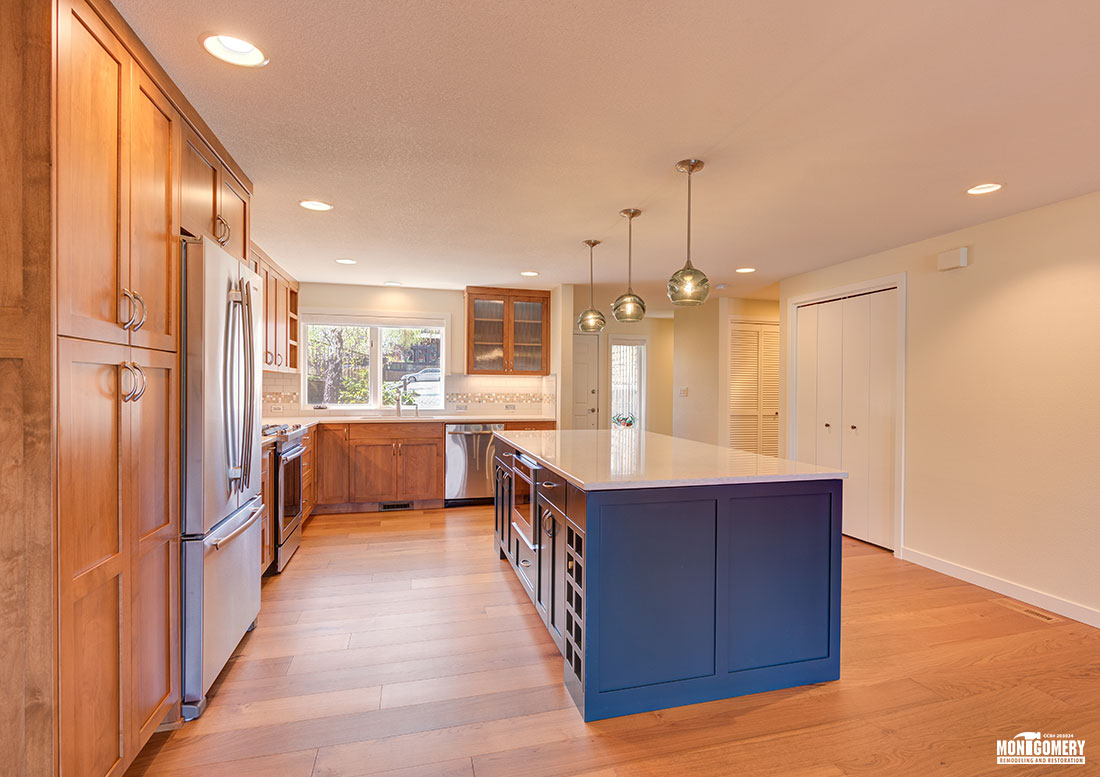 7 ways to add value to your home
Home remodels that can actually make you money
If you're looking to remodel your home before you sell, but don't quite know where to begin, you've come to the right place. Ultimately, your goal is to recoup the money you spent on the remodels when you make the sale. However, not all remodel projects have the best value for their cost.
Choose projects that are worthy investments (we'll go into further details below) and that buyers will want to actually pay for.
For example, you might spend 20k on a new roof, but that doesn't mean you'll see that return right away. Buyers are going to assume that roof is in good shape regardless. But, if you spend 20k on a kitchen, you'll definitely spark the interest of a potential buyer. Now, this isn't to say that replacing the roof, siding, water heater, etc. isn't important. Buyers will turn away from obvious damage and wear to big items on the house. Above all else, make sure your home is livable and passes all inspections.
If you know that there are no major items needing to be replaced, consider a few aesthetic changes that are worth the investment. Here are seven remodeling projects that can actually make you money.
Curb Appeal
Believe it or not, the way your yard looks, is a big selling point to potential buyers. It's the first impression that someone sees of your home (whether they're buying it or not) and has a considerable impact on the overall 'feeling' the house gives off. "A good fist impression can add five percent to its value" says HomeAdisor. This is why we recommend spending the time to update and maintain the exterior of your home. A few ideas on how to do this include:
Repainting the exterior siding and trim (lots of people are even adding a tasteful pop of color with a uniquely colored front door)
Pave the driveway, if possible, and fix any cracks or damage
Fix the fence or even add one if necessary (Bend is very dog friendly, and many buyers may turn away from an unfenced yard)
Landscape, weed the yard, mow the grass and plant some flowers. Drought-tolerant plans are easy to care for while still adding life to your yard. Potential buyers may even appreciate a "zero-scape" yard that require minimal upkeep
Add charming yard ornaments or patio décor. Change your exterior light fixtures or add walk-way lights
Add a Deck
With today's alarming headlines and digital overload, people are craving calming design trends – this includes outdoor living space. The idea of a peaceful outdoor space – to spend a morning reading or an evening in front of a firepit – has homeowners really excited. On average, there are 162 sunny days in Bend, Oregon. That means, 162 days with no excuse but to be outside.
Buyers are very interested in unique but functional outdoor spaces, and decks are a great way of accomplishing both. Spending the money to add a deck onto your home, will likely gain you up to eighty percent back of its cost when you sell. Use hardy materials and high-grade finishes to ensure the life of your deck; especially on the not-so-sunny days.
Designated Home Office
Earlier this year, Bend was announced as the U.S. capital of telecommuting. "Already known as a mecca for remote workers, Bend leads the nation with the share of its workforce telecommuting at 12.1 percent, the latest U.S. Census estimates show." What this means for homeowners is that many potential buyers will be looking for a designated space in the house to work from. Here are a couple ideas to do this:
Convert an extra bedroom into a home office. Think about removing a closet if the house has adequate storage.
Use a bonus room or basement.
Enclose off extra space in a bonus room, living room or even to make a "loft" type area
Use an existing nook or smaller sitting area.
Add extra outlets, data ports, phone lines and grounded ports in case of surges.
Avoid using rooms that receive poor signals unless there's the option to be directly connected.
Finish the Basement
Surprisingly, there are a lot of homes in Central Oregon that have basements. Many of these basements aren't finished but can offer a lot of potential to interested buyers. Finishing the basement before you sell not only gains you the square footage, but also adds an entirely new room to market to buyers.
Finished basements can become bonus rooms, media/game rooms, home offices, craft/hobby rooms, or playrooms. (Bonus points if you can add a bathroom).
Basements that are large enough can also become accessory dwelling units (ADU). An ADU has the potential of becoming in-law-suites or even rental units, especially in the Bend area. This is really exciting to a potential buyer that could utilize the basement for a multitude of possibilities, including as extra income.
Create Light and Space
A large percentage of our project inquires over the last few years, have asked about knocking down walls and opening up spaces. A prominent design trend of the '80s and '90s, included separating one living space from another, also called a closed-concept floor plan. While these delineated spaces can offer more privacy and sound control, they often lack natural light, are less accessible and can feel small and cramped. Today, many potential buyers are looking for the opposite with an open-concept floor plan.
Open floor plans offer greater lines of sight, (perfect for watching the kids or entertaining guests), allow for better natural light, have more contemporary aesthetic and a better resale value. A contractor like Montgomery Remodeling and Restoration can meet with you to assess how to open up the walls and complete the project to look as if it's been that way the entire time.
Adding natural light is another option separate to or conjunction with opening up the walls. You can add more windows, add larger windows or even add skylights to just about any space.
Update the Bathrooms
Updated bathrooms are a sure-fire investment in markets like Bend. A well remodeled bathroom can recoup 100% of the cost, if not more. People spend a lot of time in bathrooms and find themselves drawn to these renovated spaces, especially the master bathroom. Potential buyers actually want to see a bathroom that you put money into. Consider also adding another bathroom if your house allows. "Properly executed, a powder room, second, or even a third bathroom is an advantage. But if it's too small, doesn't fit into the flow of the house, or seems like an add-on, you do yourself a disservice," designer Shannon Freeman says. Also, make sure the room includes an exhaust fan — something home buyers rank high on their list of desires — and a window that will bring in plenty of natural light."
A few ideas for upgrades to a bathroom include:
Floors: tile floors are always a great choice, and it's fairly inexpensive to add radiant heat to them (great for CO winters!). Another option is a water-resistant luxury vinyl plank flooring, such as COREtec or a similar brand. They come in a variety of colors and you'll save on the install costs.
Counter tops: solid surface counter tops, like quartz or granite, are a great and affordable upgrade. Oftentimes, you can even find a remnant piece of slab to use for a great deal!
Walk-in tile shower: most home buyers aren't looking for a tub/shower combo in their master. Unless the bathroom is large enough for a free-standing tub, they want to see a standalone walk in shower. Tile showers look amazing and are easy to maintain, especially if you use large pieces of ceramic or tile. Top it off with a sleek frameless glass shower door and buyers will be very impressed.
Fixtures: even changing out the light and plumbing fixtures can go a long way. It's amazing what a good vanity light or new sink can do to a bathroom.
Remodel the Kitchen  
Kitchens are one of the biggest items that a buyer looks at in a new home. [Kitchens] are the areas in a home "where you can tell if money has been well spent or not," says architect Steve Straughan, a partner in Los Angeles-based KAA Design Group. "They're the most expensive areas of the home in terms of construction. And they're where people spend time in their homes." When potential buyers walk into your house, you want them to be able to picture themselves living there.
When choosing which areas of your kitchen to remodel, consider the cost of materials vs the value. What you might save on laminate counter tops now, you will definitely get back on quartz counter tops when you sell later. A well remodeled kitchen involves a balance of two things: function and aesthetic. You want the kitchen to flow and operate smoothly, but you also want it to look good.
A few ideas for upgrades to a kitchen include:
Floors: a luxury vinyl plank, such as COREtec, is going to be cost effective and have great durability for high traffic and active areas.
Cabinets: while replacing cabinets is probably one of the largest ticket items, you can also choose to have them refinished, (painted/stained) or even just cleaned professionally. Adding nice handles and knobs is a great way to add new life to cabinets, as well.
Counters: solid surface counter tops are very affordable these days. Using real or engineered stone, is a sure way to make any kitchen look updated.
Backsplash: backsplashes are an underestimated part of a kitchen remodel. Not only do they help with stains and messes, but also add a great design element to the kitchen. Consider full height backsplashes or even unique patterns/colors when choosing a splash.
Appliances: depending on what other areas you remodel in your kitchen, you may think about updating your appliances, especially if you don't have stainless steel.
Fixtures: light and plumbing fixtures are another easy and pretty inexpensive area to update.
Home buyers look for a number of items when purchasing a home, but not all buyers will be looking for the same thing. But, this list of seven projects is a great start for capturing what most potential buyers will be after. If you're looking to sell your home, consider one or more of these home remodeling projects before you list. || #makingplacesbetter