Stone Flooring For All Decor Themes
Stone flooring is often affiliated with a rustic look. But the reality is that stone flooring can also work with very contemporary, traditional, or minimalist decorating schemes as well. Because stone tiles and stone flooring can vary from soft sandstone to hard marble and granite, and can be either polished or left natural, stone flooring is a fantastic choice for any design theme.
When considering stone flooring, cost and appearance (color) are the primary two areas where decisions need to be made. With regard to durability, most types of stone floors are extremely durable and hard to damage, so using stone flooring is a safe bet that it is pet and traffic resilient. Sandstone is an exception because it is softer and prone to pet damage or scuffing from heels in high-traffic areas, but the texture of sandstone adds a softening effect to flooring, so some people like that look.
With regard to cost, limestone or limestone tiles, and travertine (a type of limestone) are the most cost-efficient of all the choices of stone flooring options. Limestone comes in a variety of colors and can be purchased as a pattern or as tiles. Because limestone is somewhat porous, it is recommended to be sealed to make it easier to clean, and more stain-resistant. Additionally, because some limestone can have a bit of texture, it is a fantastic choice for those seeking a rustic look for their northwestern home.
Marble and Granite are popular choices for stone flooring. Because they are completely sleek and smooth, they offer a contemporary or minimalist look, but also fit well with more traditional interior designs. They are extremely durable and low-maintenance and, therefore, popular in high-traffic areas like kitchens and bathrooms. The options in these types of stones are practically endless because they come in such an assortment of colors, with unique veins and even beautiful "flaws" that make each piece its own work of art. They are available in a variety of sizes, so larger tiles in huge spaces are practical and provide fewer seams for a dramatic look, but can be purchased as tiles for backsplashes and countertops as well.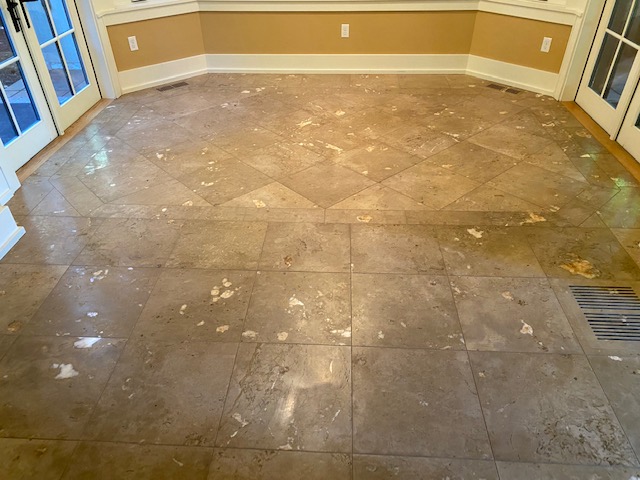 Slate is a fantastic choice if you're seeking dark stone flooring. Slate can be found in a range of darker colors like peacock, purple, and deeper blues and grays. Slate is on the more expensive range of stone flooring options, and installation of slate flooring can be tricky, so slate floors typically take a bigger bite of the budget when considering a remodeling project. But if your heart is set on the dramatic, look at slate as a stone floor option.
Whatever you choose, give us a call at Montgomery Builders. We are a local, trusted, and recommended contractor in Central Oregon. We have experienced project managers that are with you every step of the way during your remodeling project. We look forward to helping you achieve your remodeling goals. Contact us or Call us today.