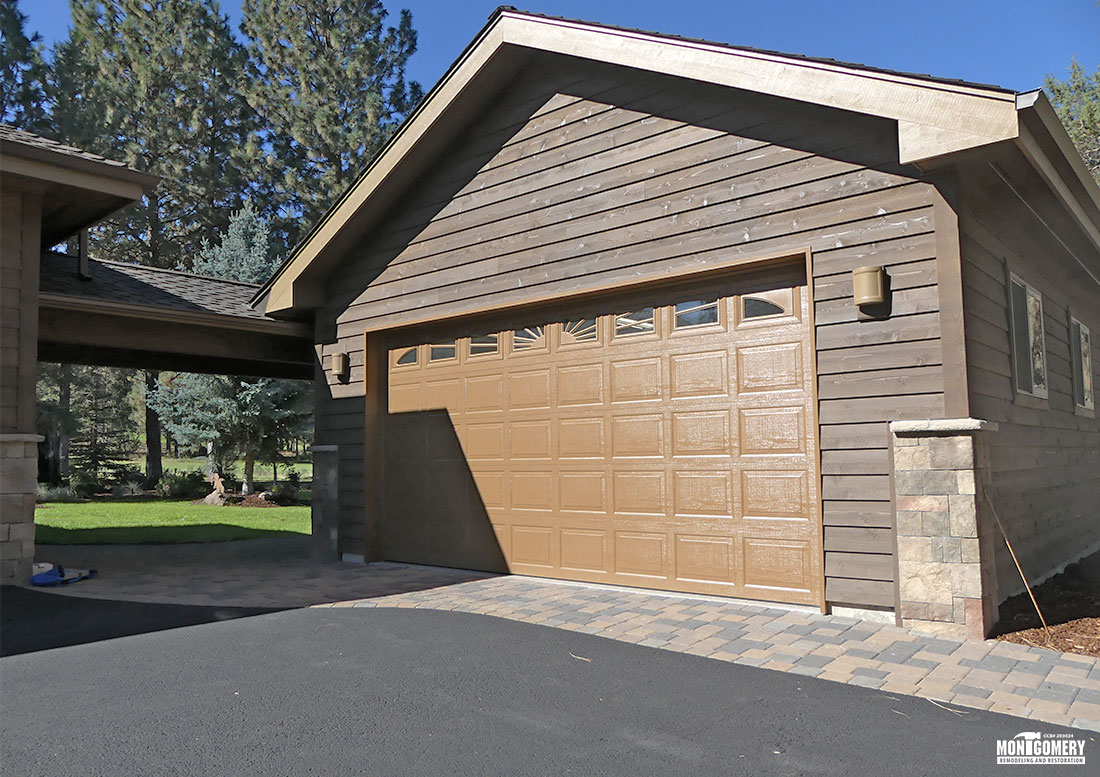 Better Places || Garage Clean Out
Introduction
Montgomery Remodeling and Restoration has a motto; "Making Places Better." This is like the saying, "leave places better than you found them" that our parents would tell us when we visited someone's house or when we went camping in the wilderness. Always leave a place better than you found it. Well, Montgomery has adapted this quote as our company's personal mantra. Make Places Better. This is why we are starting a new Blog Series called 'Better Places,' which will include tips for you to make your own place better and examples of how we've made our client's places better.
If you have an idea for a Making Places Better post, comment below or message us on Facebook!
New Project for a New Season
Now that Spring has sprung, (even if the weather in Central Oregon is a bit finicky), we think this is a great time to consider a total garage clean out. Garages often turn into our own personal dump sites and rarely serve its original purpose, storing and protecting our vehicles. But, over time we tend to dump our extra items into the garage and forget what most of it even is.
This Better Places post is intended to give you tips for tackling this rather large project into manageable steps.
Step 1 | Make a plan
First off, give yourself plenty of time for this project. Think of this project in terms of days, rather than hours. Garage clean outs don't typically take an afternoon, but rather the entire weekend or even longer. Depending on the state of your garage, clear your weekend and plan for a time when the weather looks good. You'll want to be able to move ALL your items out of the garage for this one.
Take a moment to envision the way you want your garage to look. Think about your goals and the primary use you'd like your garage to serve. Do you need to make room for your car again? Do you need space for a work bench? How about better organization and storage for all your belongings? Keeping your goals in mind will help you stay focused and productive.
Step 2 | Prepare what you'll need
Create a sorting space outside of the garage (such as in the driveway or front yard) and have designated spaces for certain items. We recommend sorting your garage items into four categories: Garbage/Recycle, Donate, Sell, and Keep.
Before you begin, gather garbage bags, boxes, totes (clear ones work best so you can see what items are in them), shelving or any other storage pieces you plan to use in the garage. Have them on hand and ready. Research where you plan to dispose any hazardous items such as paint, pesticides, motor oil or electronic waste, as these cannot go in your garbage or recycle bin.
Plan what you'll do with items you decide to sell. Selling them online is always an option, but it's also garage sale season!
Step 3| Remove and sort
Begin pulling things out of your garage and categorizing everything into its proper space; Garbage/Recycle, Donate, Sell, or Keep. Remove everything from the garage. Remove items from boxes and totes, empty the shelves and pull things out of the rafters or anywhere else they could be hiding. Continue until nothing is left in your garage.
This step is based from Marie Kondo's The Life-Changing Magic of Tidying Up. In Kondo's guide for decluttering and organizing, she suggests removing everything from the space you are tidying up. This allows you to see and touch each item you own and decide if it "sparks joy" for you, and is worth holding on to. If it's something you love or actually need, place it in the proper category until you are ready to put it back in the garage. If not, Kondo's guide says to thank the item for the time it has given you and discard accordingly.
What may be worth keeping, are things like important memorabilia, items you've used within the last 12 months, things that have a definite use like gardening tools, holiday decorations, paint, car care, seasonal gear, sports equipment, camping gear and tools. You may also need to keep important paperwork or documents, baby/children's clothes, toys, extra appliances that don't fit in the kitchen, or pet supplies. You can sort these items into subcategories within your 'Keep' area. This will make putting them back in the garage a lot easier.
Step 4 | Clean it up
Since you've removed everything from the garage, now is the perfect time to clean it out. Garages can get really dirty, so inspect the area for rodents, pests or even water damage. If you find signs of any of these, plan to treat as needed.
Next, vacuum and/or sweep the garage. Get all the nooks and crannies, all the low areas and all the high corners. Take advantage of your empty garage and really clean it well. If you're feeling extra productive, you can even scrub and mop the floors. Just let them dry all the way before you move anything back in. We like to think of the garage as an extension of your home, and not a bottomless pit to just throw rarely used items in. If you think of it this way, it'll be easier to keep organized and not get cluttered again.
Step 5 | Purge
Now begin disposing everything you put in your 'garbage' or 'recycle' category. Make a dump run for things that cannot go in your garbage can, or for large items that are not salvageable or sellable. Recycle items whenever possible. Visit the Deschutes County Solid Waste webpage for more information on what can and cannot be thrown away at the landfill. 
If the items are salvageable, consider donating them to a local shelter, thrift store, or non-profit.  If you prefer to sell your unwanted items, look at posting them on Facebook Marketplace or Craigslist. Or, if you end up with enough items that you are willing to part with, think about hosting a garage sale.
Step 6 | Get organized
Now it's time to start moving your stuff back in. Get all your shelving, cabinets and/or totes ready. To stay organized, you can use open boxes, color coding or label items if you think you might forget what's in it. Otherwise, get clear totes so you can see what is stored inside.
It's recommended to keep items off the floor and use the vertical space in your garage. Use the walls to mount shelves or pegboards and don't be afraid to mount things to the ceiling as well. Just be sure to mount in the studs! This will be the most effective and space saving solution to organizing the garage.
Keep like items together and create subcategories for similar items. An example would be a "Holiday Decoration" area that has sub-categories for each holiday: Christmas, Halloween, etc. Or a "Tools" area that has sub-categories such as power tools, gardening tools, hand tools, etc.
Organize your garage to best fit what makes sense to you. The items you use most should be the most accessible, and anything that children need to get in, should be accessible for them as well. Lesser used items can be stored higher up since you don't need them as often.
Step 7 | Enjoy your handiwork
That's it! You've finished your garage clean out and made this a better place. Hopefully you have accomplished the goal you originally set for this project and are proud of the work you've done.
Remember this space is still part of your home and to treat it as such. Your garage isn't a dump zone and shouldn't be neglected. Stay up on your organizing and always put your items back where they belong. This will save you from another long weekend project next year! –