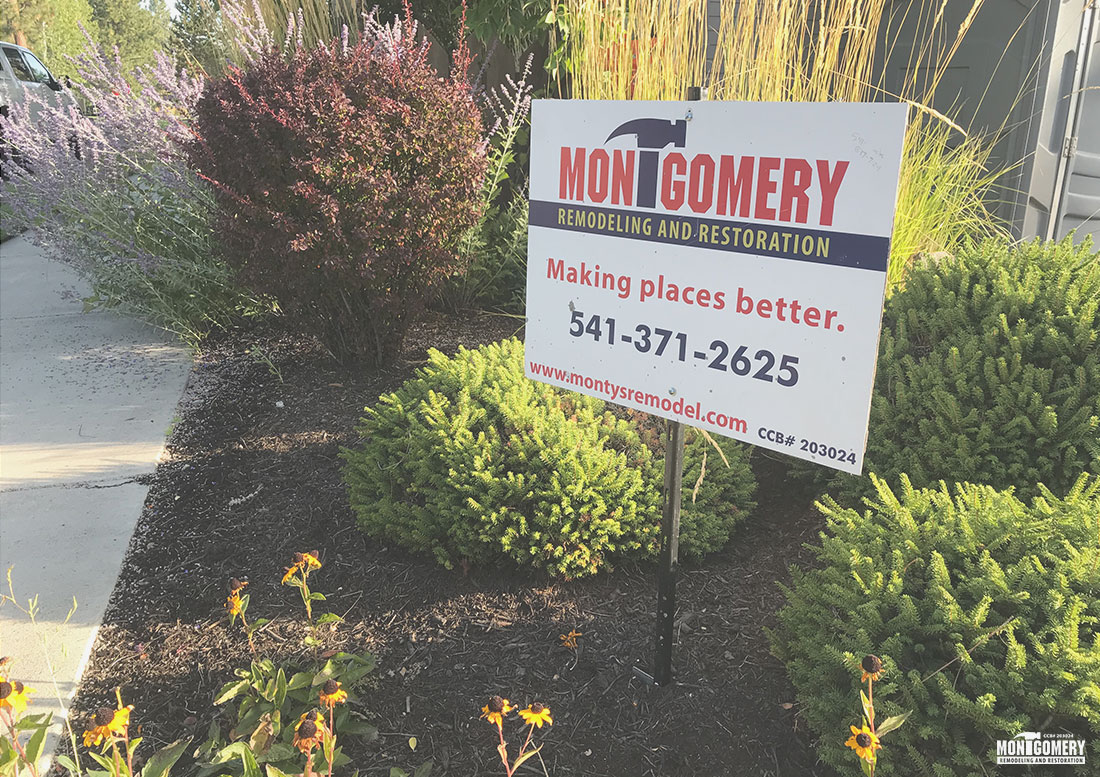 The Montgomery Minute || Issue 1
The (Almost) Spring Issue
As we are now only a week away from Spring, we'd like to take this opportunity to give all our past, present and future clients a little company update. We also plan to continue these updates so everyone can see what Montgomery Remodeling is working on. It's important to us that our clients know we are a relatable and engaging company. Being small makes us special and allows us to have close connections to the people we work with. Of course, you can always find the most up-to-date Montgomery news on our Facebook page.
Years in the making
Montgomery Remodeling and Restoration has been in business for over 6 years. Our company has grown considerably in the last few years with many new jobs, new employees and new ventures.
Mike Montgomery, our fearless leader, spends a majority of his day meeting with potential clients or checking on existing jobs. There isn't a single project that Mike hasn't been a part of. If he doesn't manage the actual project himself, he has still met with the clients, written their estimate and walked through the job with them. We couldn't be 'Montgomery Remodeling' without Mr. Montgomery himself.
We also have three rock star project managers, Glenn, Mickey and Ted, who all run our jobs efficiently and effectively. Glenn, who has 39 years of experience, mainly manages our southern jobs in La Pine and Sunriver. Mickey handles our Bend projects in all three zip codes. Mickey has over 25 years of experience and is the newest project manager to join our team. Ted has been in this business for 28 years and is currently managing our Redmond jobs. Together, these three men are our 'Terrific Trio.' With business booming, they allow our clients to have a point of contact that is always available to answer questions and help explain the process of their remodel.
In the field, we have our lead carpenter, Sammy. This guy is a phenomenal finish carpenter that can make just about any custom piece of woodwork and he does it exceptionally well. Sammy is also our certified water restoration contractor and lead paint specialist. Steve is another great carpenter on the Montgomery team. He is our hands-on guy that can handle just about any task thrown his way. And finally, we have our laborers, Brandon and Ken. Both are extremely hardworking men with great skills and that go-get-em attitude. They aren't afraid of getting down and dirty to get a job done.
In the office we have Lori, who is the newest Montgomery team member. Lori is our official bookkeeper and office administrator. We're extremely thrilled to have her join the company. Managing the office is Lauren, who handles all the client correspondences and coordinates our marketing. If you get the chance to stop by, you'll be greeted by one of these two ladies, and if you happen to visit on a Friday, one of our office dogs will be happy to greet you as well!
So far, so good
The first few months of this year have been very busy for our small company. We've already looked at over 50 potential jobs! (And that doesn't even include the calls from this year's 'Snowmageddon'). Currently we have over 20 active remodel and restoration projects across Central Oregon. While we specialize in both, our primary focus in 2019, is to create exceptional remodels for our clients. Our motto 'Making Places Better' is also our goal. We know how important and special your home is to you, which is why we make every project we take on important and special to us. From kitchens and bathrooms, to additions and renovations, every project we complete, will make your place better.
We feel very blessed to run our business in such a wonderful community. Having served Central Oregon for this long, we look forward to what the years ahead will bring us.