Kitchen Remodeling Storage Planning Ideas
A kitchen remodel can be one of the most exciting aspects of renovating your home. The kitchen is where most families live their daily lives. Breakfast nook, island seating, and open plans into a dining area all help make the kitchen one of the most lived-in rooms in most homes.
When you're planning your kitchen remodel, storage is an important element and is foundational to the layout and design. So if you want your kitchen to feel spacious, open and bright, think about where and how to place storage so it doesn't crowd the space. If you prefer a smaller, compact kitchen that is more utilitarian, think about what are the most important elements of storage and build your plan from that.
Here are some helpful tips:
Decide on a unified design or mix-and-match styles. Do you want wall cabinets AND base cabinets? Do you want floor-to-ceiling cabinets? Or would you rather use some base cabinets and some open shelving on a wall? Do you want to keep the areas around a window open to allow for more light, or do you want cabinets to abut the window frame? These are all decisions to make once you have considered how much storage you need in your kitchen. If base cabinets will suffice, consider leaving some wall space free for a beautiful tiled mosaic wall or open shelving to display antique pieces. It's ok to make your kitchen as much a showroom as any other room in your home.
Maximize pantry space. This is one of the most important elements to think about when designing your new kitchen. Using adjustable shelving can be extremely helpful in maximizing the storage space in a pantry. Bulky items like mixers, blenders, and crock pots can be stored low on larger shelves, while more narrow shelving can be just above it for more frequently used items like spices, snacks, drinks, and lunchboxes. The upper most shelving can be adjusted to accommodate large totes where seasonal and infrequently-used holiday settings or fine china is stored safely. A good rule of thumb for designing the pantry is heavy on the bottom, frequently used in the middle, and breakable up top.
Use the narrow spaces. A floor to ceiling cabinet with a pull-out is an ideal solution to utilize a narrow space between the end of base cabinets and a wall, or next to an appliance. Within a narrow space, pull-out racks can be used to store wine or spices. Or, a peg board can be installed to hang frequently-used utensils. Making your kitchen as spacious and inviting and functional as possible means using every nook and cranny!
Display your cookware and service. This is another option many homeowners use to make an area of the kitchen feel more open. Using open shelving for dishes, hanging pots and pans over the island, or hanging utensils from a peg board or wall-mounted rail, are all popular ways to store the everyday essentials of cooking. When done in a tasteful way, these elements of kitchen design free up cabinet space to hide the more unsightly and bulky appliances, while making frequently-used items easy to access. This style is NOT for everyone, however, and does require one to keep everything tidy as it is all visible all the time.
Use space savers within cabinets to hide the clutter. There are options to make your existing cabinets more organized. Clever innovations like adjustable pull-outs, hidden wine and spice racks, under-shelf baskets, and drawer organizers are all fantastic ways to maximize storage in minimal space.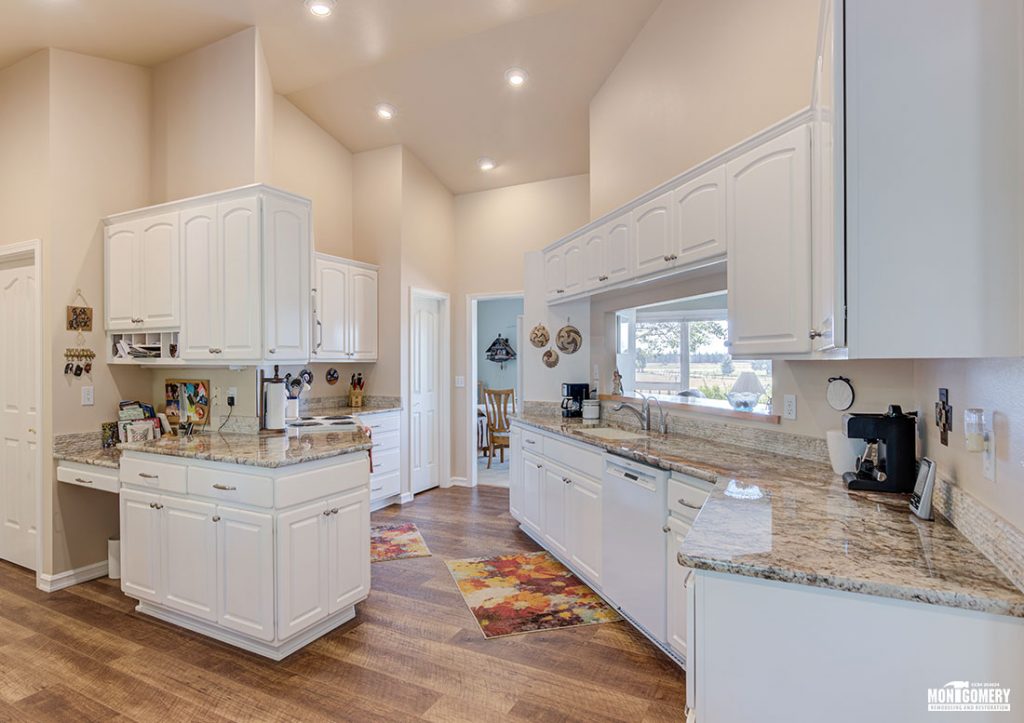 When thinking about your kitchen remodel, contact the pros at Montgomery Builders to help you design the perfect kitchen that will provide the function you need and also reflect your unique style. The kitchen is one of the most important rooms in any home, so it's worth it to consult our seasoned professionals and get the best tips for storage design ideas for your new kitchen remodel. We look forward to helping you with this important project! Contact us today.