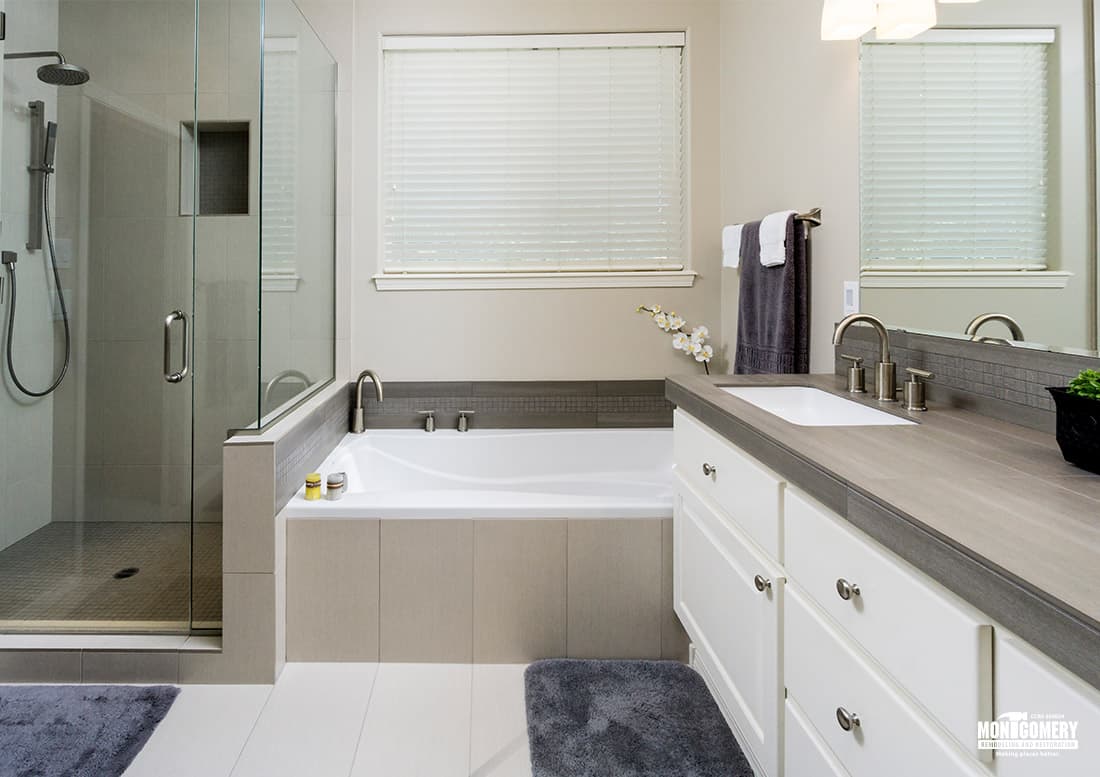 Bathroom Remodeling 101
So, you're thinking of remodeling your bathroom, that's great!
Maybe you've started collecting a few photos for inspiration or you saw a neighbor's bathroom and loved the layout. Whatever the case, you're now interested in moving forward – but what's next? This article can help you begin the steps toward your bathroom makeover.
Where to begin
Start by asking yourself a few questions: What are you hoping to get out of this remodel? Are you looking to add more space or change the layout of the bathroom? Does your current bathroom hinder anything for you and would a remodel improve that?  Who's going to be using this bathroom and how often? Are there any medical, size or age preferences you need to adhere to? Do you have adequate storage?  Is this purely an update to achieve a desired look or for resale purposes? And most important, what is your budget?
Keeping all these questions in mind will help you finalize your budget. There's going to be a balance between what you want and what you can afford. Remember to prioritize. Most of our clients don't know what everything will cost (and that's ok!) but doing some initial research can help turn your expectations into realistic perspectives. Unless you have an unlimited budget, compromises will be part of the process to creating your desired bathroom. So, how do you decide what selections to make. The key is to figure out what matters most to you and to create goals that will achieve this.
Function first
The function of your bathroom is the most important part of your remodel. Since we inevitably spend a significant amount of time in these rooms, why not create it into a space that you enjoy entering? There are many great features that can turn your bathroom into the place "to go." Consider putting your toilet in its own room, framing out shower niches or installing heated floors. Maybe you'll need extra lighting for doing makeup or shaving and the height of your vanity also belongs in this category, since plumbing may be affected by its placement. Double sinks are very common but require extra plumbing and counter space. For the shower, how about a rain shower head, or even dual shower heads? Hand-held sprayers are great and steam showers with a built-in bench can turn your own bathroom into a personal spa. And what's happening with that tub?
These are all "function questions" to ask yourself as you plan out the remodel.  Ideally, you'll want to focus on the layout of your bathroom first, especially because moving around plumbing and electrical is where a lot of costs could add up. There can always be unforeseen costs, so make sure to budget in an extra 10% for those, just in case.
Make it look good
Once you've established the layout of the bathroom, you can combine it with your aesthetic desires. What do you want the feel of the bathroom to be? Light and airy? Cool and dreamy? Dark and elegant? If you're not quite sure how you want the bathroom to look, consider hiring a professional designer to give you ideas. A lot of material showrooms, (such as tile, plumbing fixtures, cabinetry, etc.), may even have designers on hand to help give you a better idea of what can be accomplished in your new space.
Now that you've chosen all the design features of your new bathroom, it's time to hire a professional(s) to get the job done. A general contractor, like Montgomery Remodeling and Restoration, will take care of the entire job for you, from start to finish. No need to worry about hiring or scheduling sub-contractors or specialists. We will take all the measurements and order all your selected materials. We can also handle any permits that are necessary and get plans drawn up if needed. We, at Montgomery, know how to solve unforeseen problems and keep your project on time and within budget.
A few more items to think about
Are you staying in the house during the remodel? If you are, do you have a second bathroom to use while the remodel takes place? Is it a full bath? In general, are you ready for the project and the inevitable disruptions it could have on your daily routine? We ultimately want you to be happy with the end result, and this does include having a pleasant experience while we create your dream bathroom. Ask questions before the project begins so you are fully prepared and know what to expect. But be flexible. Every remodel is different and complications can happen. If you think you're ready to remodel your bathroom, contact us today for a free consultation! Montgomery Remodeling and Restoration is Making Bathrooms Better.